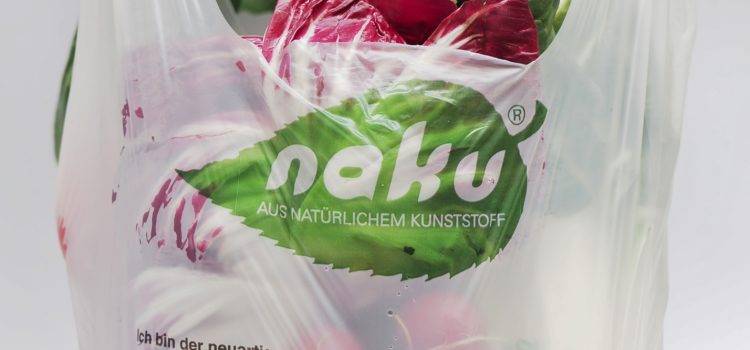 Plastic bag ban in Austria
Biodegradable bags are excepted
A ban on plastic carrier bags, except those fully biodegradable, will come into effect in Austria in 2020. Very light, biodegradable bags are excepted. Our solution can be found here: NaKu carrier bag light.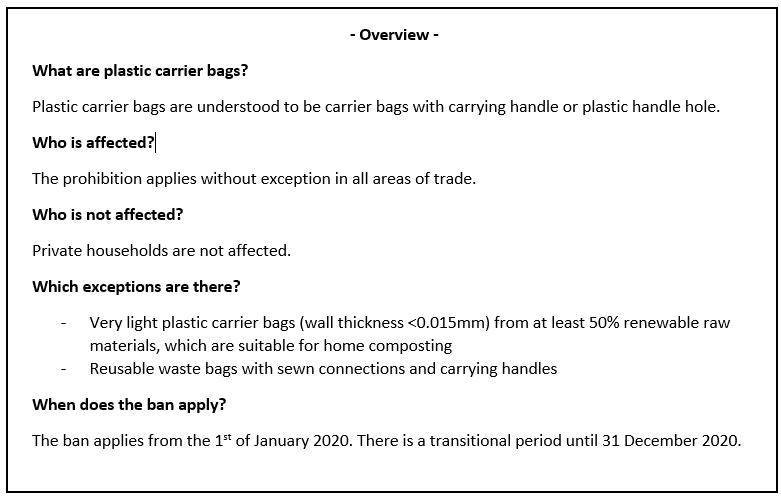 Explanations
From 1 January 2020, the placing on the market of plastic carrier bags is prohibited. The "placing on the market" can be understood as a transfer to a legal entity within Austria. Distance selling, like telephone or electronic business, is also affected. Handing over to a private person is not a prohibition. For bags already ordered or in stock, a transitional period until 31 December 2020 applies.
What are plastic carrier bags? Plastic carrier bags are understood to be carrier bags with carrying handle or plastic handle hole. Garbage bags, freezer bags, "Gackerlsackerl" or bags for Biokisten are therefore not affected by the ban (and sold by NaKu!).
Who is affected? The prohibition applies without exception in all areas of trade, from supermarkets to fashion stores and kebab and sausage stalls. Private households are not affected.
Which exceptions are there?  Forbidden are all plastic carrier bags, except:
Very light plastic carrier bags, those with a wall thickness of less than 0.015 mm, which are made from at least 50% renewable raw materials and are suitable for home composting, and
Reusabl bags made of plastic or equivalent plastic material with stitched connections and carrying handles or connections and carrying handles of comparable stability.
The term home composting can be understood in households to mean the use and care of a facility for the conversion of biogenic waste into humus-like substances (compost). The underlying standard is the TÜV standard "OK compost HOME". An appropriate EN standard has already been commissioned.
The "reusability" of a carry bag refers to its original purpose.
Bio-based plastic carrier bags
The exception of very light plastic carrier bags is intended to serve the hygiene requirements in the fresh food retail sector (for example for fruit, vegetables, meat, fish). NaKu manufactures plastic bags based on cornstarch. With a reduced wall thickness according to the specifications, these bags are therefore still allowed in trade. Not only are they biodegradable, they can also be used to keep food fresh after purchase. In this way, food has been proven to stay fresh longer. If a NaKu bag is no longer needed, it can be fed to the plastic collection. So there is the possibility of inclusion in the recycling process and made old again.
Reports of plastic bags placed on the market
Once a year, the number of plastic carrier bags placed on the market must be reported to the household packaging collection and recycling system. Very light (wall thickness less than 0.015 mm) and lightweight plastic carrier bags (wall thickness from 0.015 mm) are to be listed separately. The notification must be made by March 15 of the following year.
Current situation in Europe
Italy was the first European country to introduce a cross-industry ban on non-biodegradable plastic bags. Since 1 January 2011, only bags of compostable bioplastic are allowed.
Since 1 July 2016, plastic bags with a wall thickness of less than 0.05 mm are also prohibited in France. Again, bio-based, compostable bags are considered an exception.
Other countries, such as Ireland, the United Kingdom and Denmark, rely on surcharges for plastic bags. The introduction of such a tax in 2002 led to a reduction in plastic bagging consumption of around 90% in Ireland.
Single-use plastic ban from 2021
From 2021 a ban on single-use plastic products will follow in the EU. This was fixed by the EU Council of Ministers and the European Parliament and enters into force on 1.1.2021. Prohibited products include cotton swabs, straws, cutlery, plates, beverage containers and food packaging. Excluded are natural polymers. NaKu straws can therefore also be purchased and used in the future!
In addition, collection targets for plastic bottles have been set: 77% by 2025 and 90% by 2029. In Austria, the collection rate is currently 73%.
In addition, the content of recycled material in plastic bottles was set at 25% by 2025 and 30% by 2030.
NaKu recommends…
Since private households are not affected by the ban, we recommend especially private customers to continue to use NaKu bags. By keeping them fresh, the amount of discarded food can be reduced. This can save resources and protect the environment.
Business customers who prefer our products to others also help to reduce the use of fossil fuels and reduce CO2 emissions.
You need fruit/vegetable bags, freezer bags or bags made of renewable resources? Then contact us via office∂naku.at.