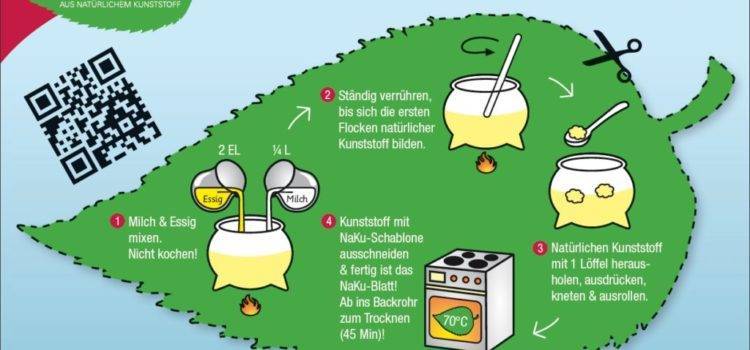 How to make NaKu – natural polymers – yourself
Try to make natural polymers
First, mix 1/4 liter of whole milk with two tablespoons of vinegar in a pot and heat it. Make sure that the mixture does not cook! Stir constantly during heating. The milk flocks out and first lumps of natural plastic are being formed.
Use a sieve to remove these flakes from the pot and squeeze out the liquid. Then knead and roll out the mass. Now, the rolled-out natural plastic can be shaped, for example with cookie cutters.
Put the plastic molds for 45 minutes at 70 degrees in a preheated oven to dry. The figure is made of natural plastic!
Tip: before putting inside the oven, make a hole in the top of the figure so that you can hang it up! The natural plastic can also be dyed. This works best with:
Red beet juice
Curry
Curcuma
Water colors