The NaKu Bag
the plastic-free alternative!
An environmental-friendly solution for those, who do not want a packaging made of plastic and petroleum.

Recyclable and compostable! Just have a look at our NaKu Double Loop.

Groceries are kept fresh for a longer period of time – this results in a negative CO2 balance!
All NaKu bags are breathable and water-resistant bio-bags made of maize starch. Groceries like fruits, vegetables, bread and even mushrooms are verifiably kept fresh longer in NaKu bags. According to a study by the University for Applied Life Sciences Vienna, salad stays fresh for 1,5 weeks longer if it is kept in a NaKu bag.
The special feature of our bags is that they can be used over their entire life cycle: this cycle starts with using the NaKu bag to carry home produce and keep it fresh. At the end of its lifecycle, the bag can be used as a compostable garbage bag, as the bag itself is completely biodegradable. It rots within a few weeks on compost, in accordance with european standard EN 13432.

NaKu bags
NaKu fresh-storage bags are available in the sizes HT001 (fresh-storage bag small) and HT002 (fresh-storage bag large) in packages of 100 pieces or in cartons of 1000 pieces. The bags also have two convenient loops as carrying handles, to carry your purchases home safely. These loops can also be used to easily tie or hang the bags.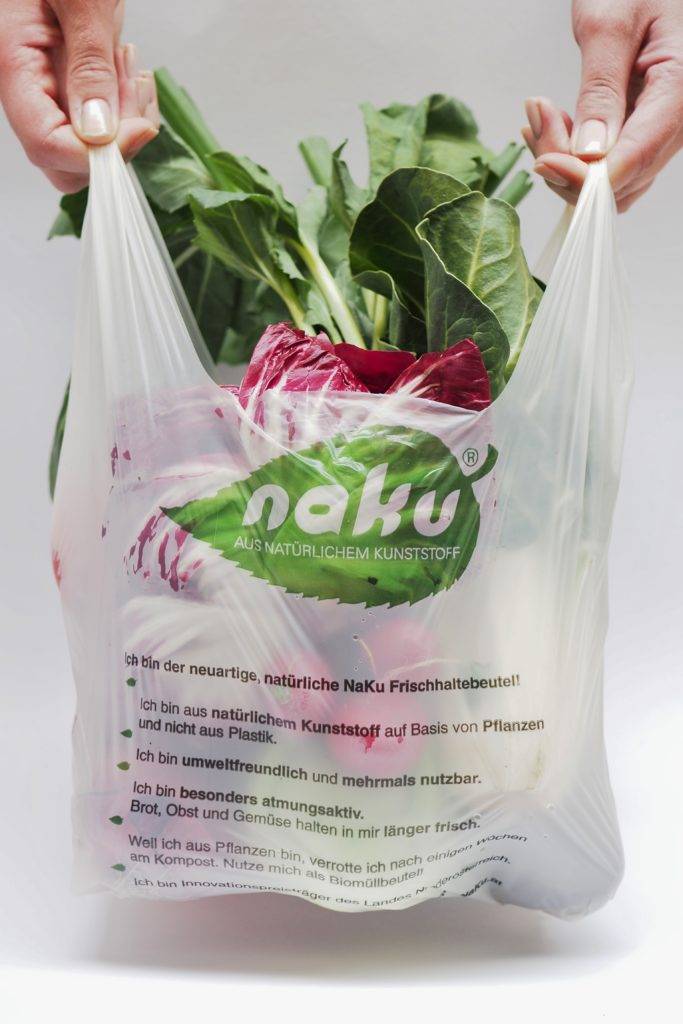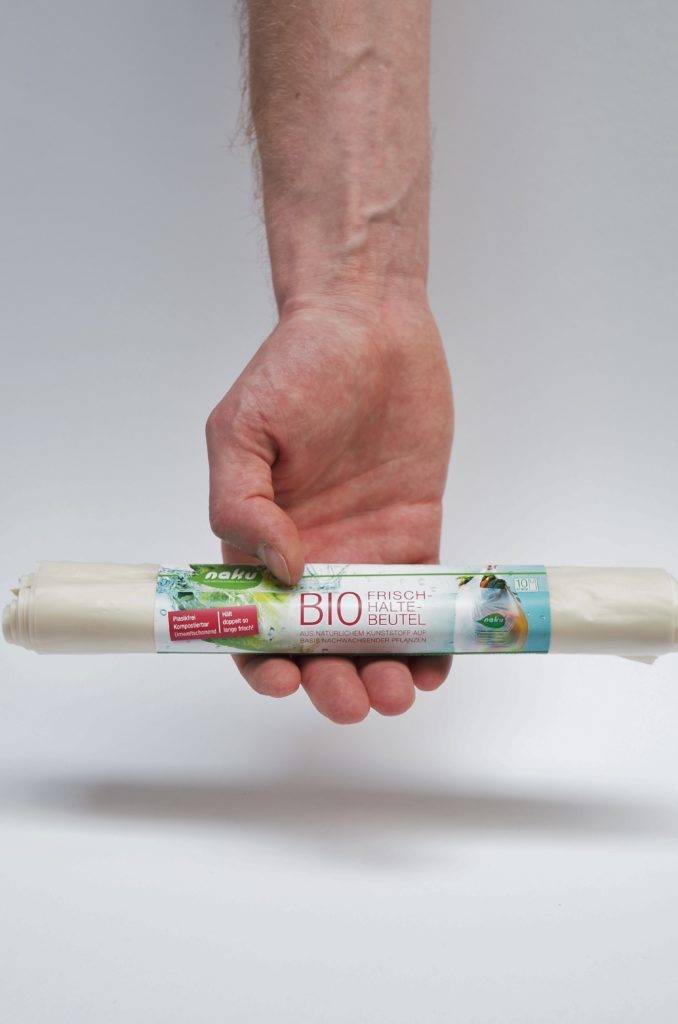 NaKu Fresh-storage-bags
Our multipack!
NaKu storage bag rolls are fresh-storage bags of the size HT001, combined in convenient rolls of 10 bags each. They are also available in boxes of 20 rolls each. Banding of our bags is carried out at a sheltered workshop for disabled persons in St. Pölten.
NaKu Freezer-bags
NaKu freezer bag rolls are ideal to freeze your groceries. They maintain the quality of the groceries and keep them fresh for a longer period. The freezer bags have a blue design and can be written on. They are combined into convenient rolls of 10 bags each and have a storage capacity of about two liters. The freezer bag rolls are also available in boxes of 20 rolls each.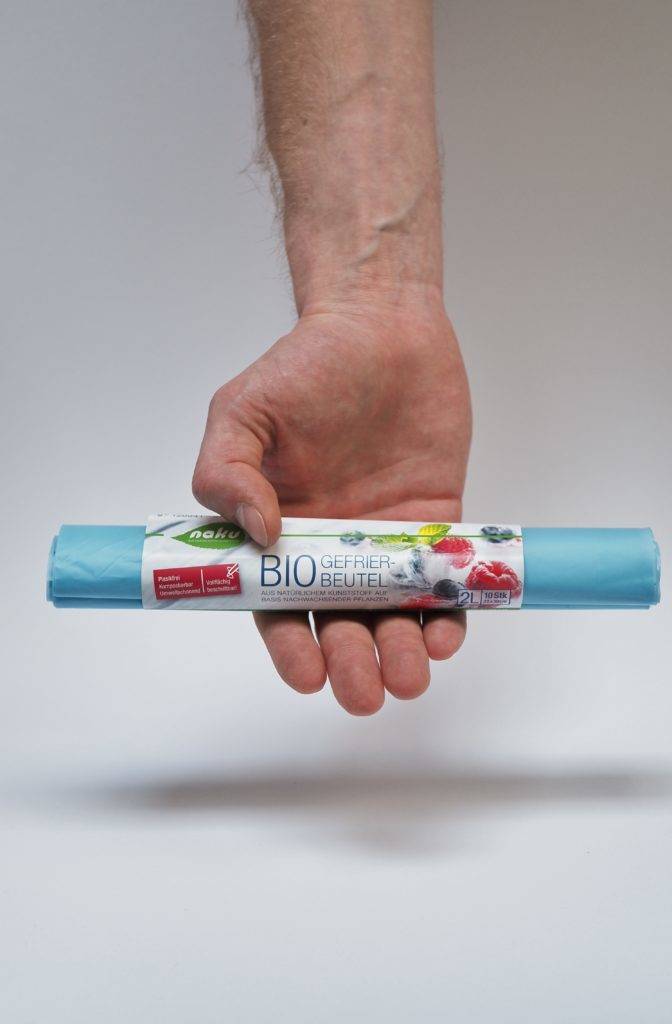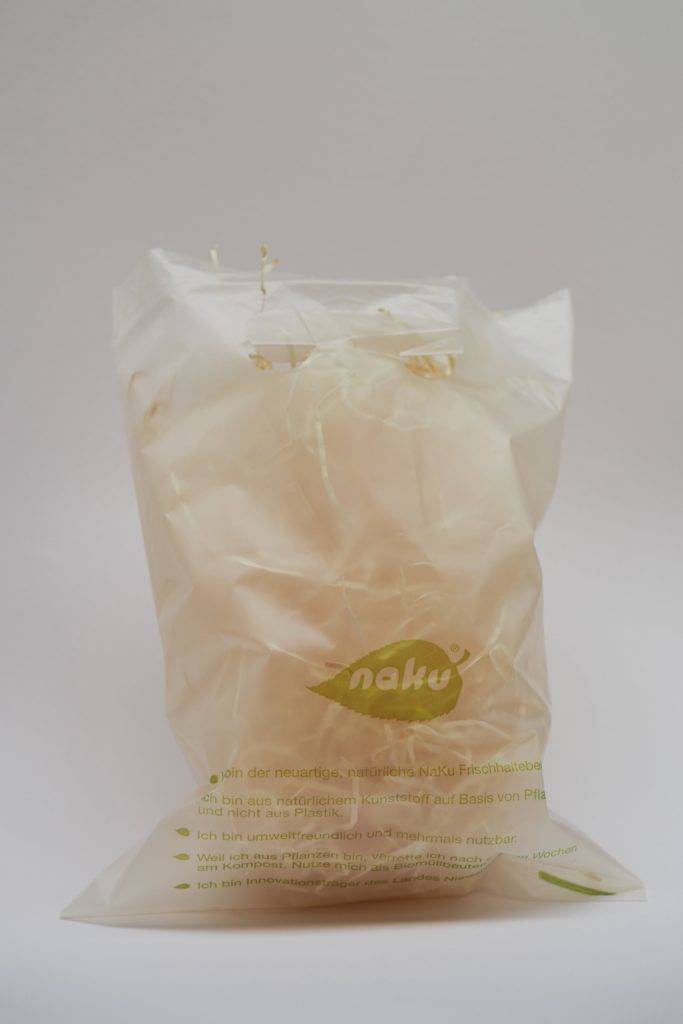 NaKu Grip-hole-bags
Also our grip hole bag also keeps food fresh for a longer time. The bag can be used to carry small items and products and is an environmentally friendly alternative to traditional plastic bags. Due to its compact size, this bag provides an ideal solution for pharmacies.
NaKu planting bag
Planting bag made of natural plastic. Plants can be easily grown in this bag and then planted together with the bag in the soil. Due to the biodegradability of the natural plastic, the bag slowly decomposes by itself.
Biodegradable
Water retention: ensures permanent moisture for the roots
Water-permeable (through a small hole at the bottom): no risk of waterlogging
Air-permeable: Roots are not hindered in their growth.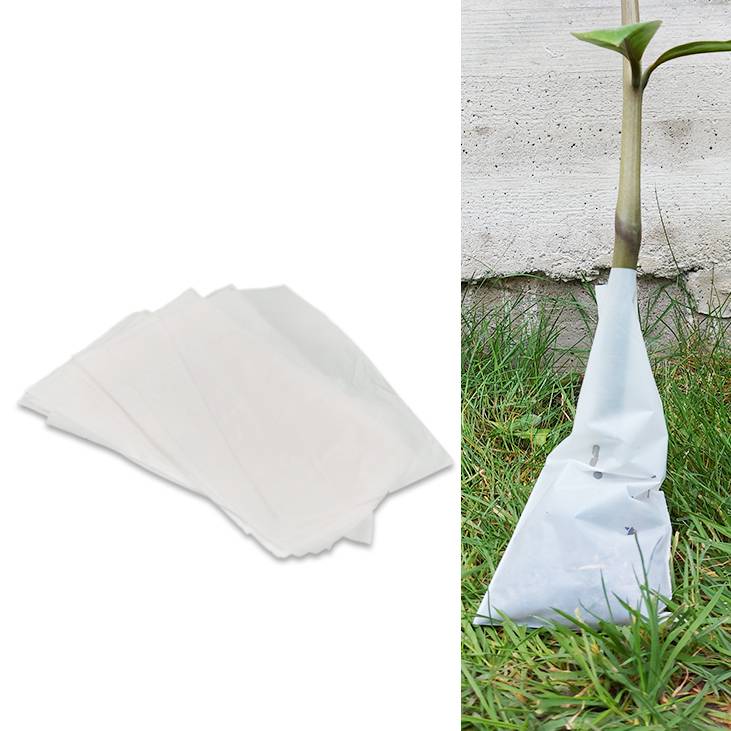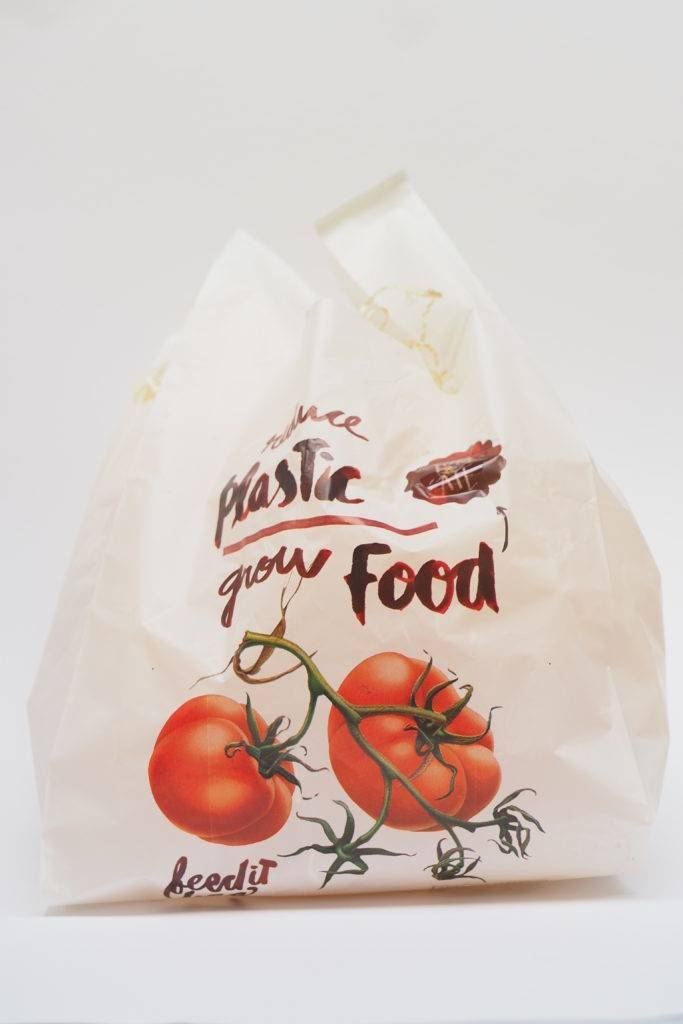 NaNa Bag
Our innovative NaNa bag is unique because it decomposes AND creates a new plant. This bag is based on renewable raw materials and is 100% recyclable and compostable. Renewable seeds are located under a sticker attached to the NaNa bag. After collecting bio waste in the bag, it can be composed with the sticker. After planting the bag, tomatoes, eggplants or pears will grow. Due to its natural origin, the NaNa bag is free from harmful substances and is suitable for contact with food.
NaKu Liners
Our liners are available in two different sizes: width: 385 mm (+2x150mm), length: 600 mm or Width: 625 mm (+2x200mm), length: 600 mm.
They can be used as liners for waste bins or boxes. Alternatively they are suitable for boxes filled with:
fruits
vegetables
dry goods
This product is made from cornstarch. Like all other NaKu products, it is biodegradable and decomposes in accordance with european standard EN 13432.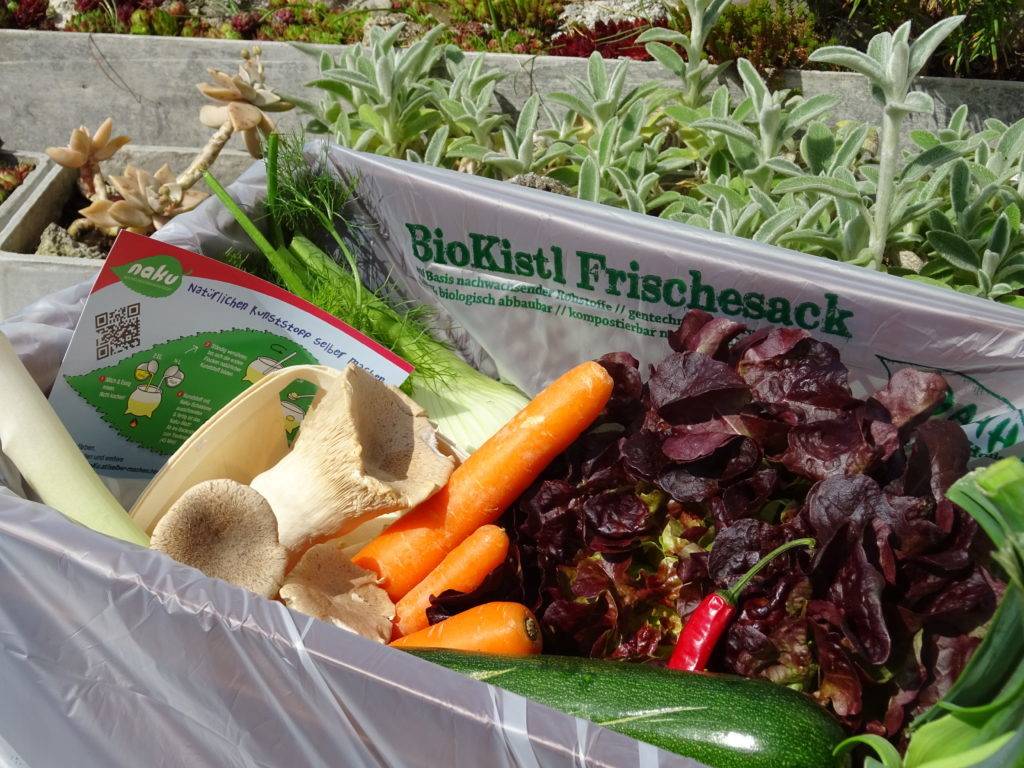 Individual Solutions
All NaKu bags can be printed individually from an order quantity of 17000 pieces onward, for instance with a company name or a logo.
The banderole of the NaKu rolls can be printed individually from an order quantity of 1000 pieces onward. It gives room for your logo, your philosophy or can be used as promotion for your campaign.
Individual printing causes one-time additional costs of 250 euros per color. Up to 4 colors can be printed.
The delivery time is 5-8 weeks after release.
High-resolution printing and special sizes are possible on request. For further questions and to clarify your individual wishes and ideas, we are happy to help. Contact us anytime using our contact form or call us during our business hours.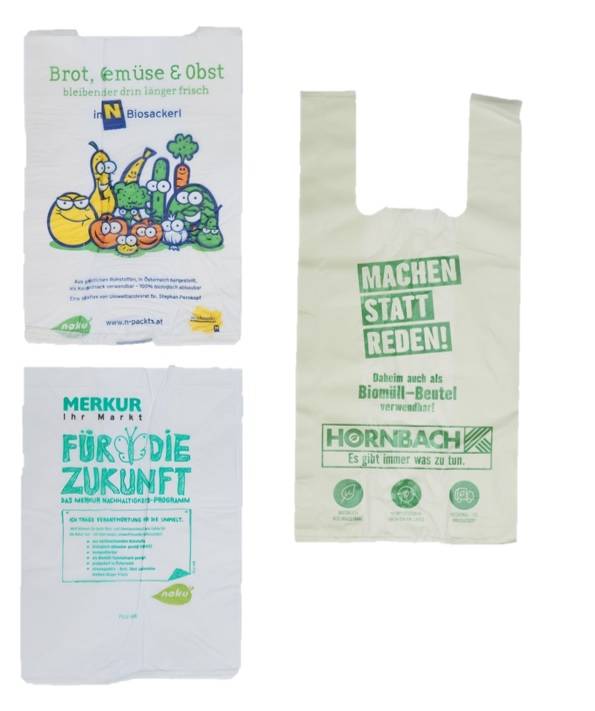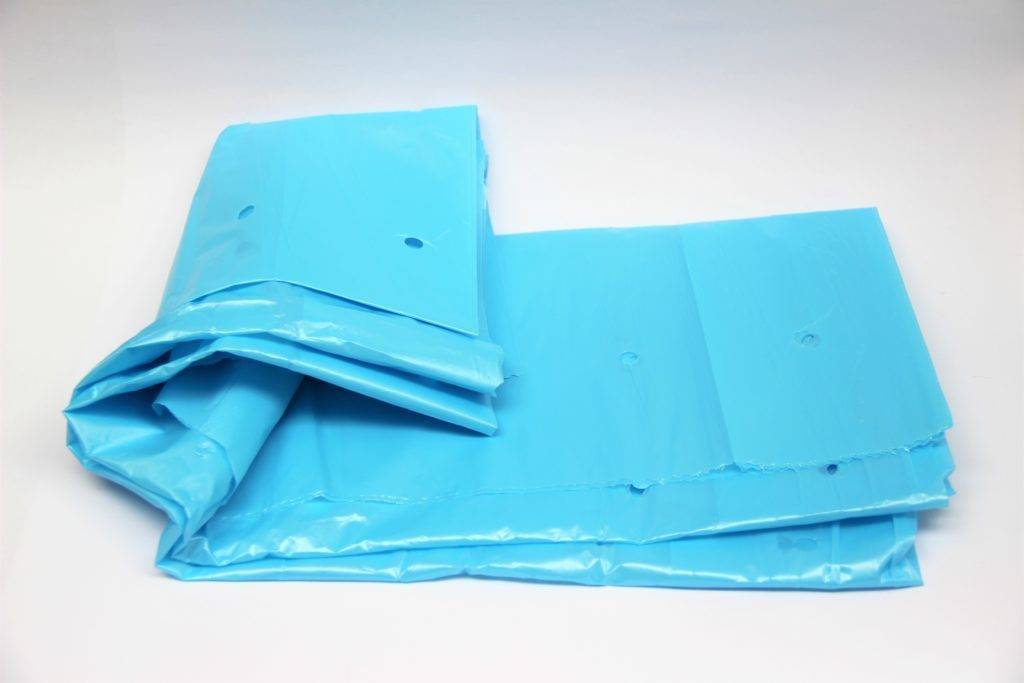 Banana Tree Bag
The banana bag made of natural polymers is unique. Bagging consists in placing a cover over the bunch to protect the fruit against damage caused by insects and other animals, by rubbing against the leaves or by the application of chemical product.
Philosophy

The combination of nature and technology is not a contradiction but an important basis for our work. Our big idea should not only revolutionize packaging, but help waste to stay in the generation that causes it.
Because: also polymers can be natural!